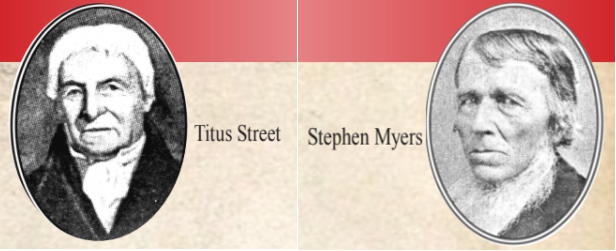 1798 Titus Street receives deed for land in the township from the Connecticut Land Company. Streetsborough--as it was originally called until sometime when the 'ugh' was dropped received its name from Titus Street, who was originally from New Haven, Conn. held the original deed to the 15,279 acres that made up the township.
1821 First extensive surveying of land. Divided into 100 tracts which is sold for $2.00 to $6.00 per acre. All major roads were planned at this time.
1822 Stephen Myers constructs cabin, establishing first settlement.
1825 First frame house erected in Streetsboro by Daniel Johnson. Titus Street donates 840 acres of his land for a turnpike from Cleveland to Wellsville. Land was also donated for a town square and a cemetery. The turnpike is now known as State Route 14.
1826 The oldest frame home, the Singletary House began construction in 1826 and completed in 1828 is still standing. Originally located on the NW corner of town square, served for many years as a tavern and stage coach inn on the turnpike, relocated to the Defer property in 1971 and has since been moved to Singletary Drive, now home to the Streetsboro Heritage Foundation.
1826 First school in Streetsboro Township was built at Johnson's Corners (corner of old S.R. 14 and Aurora- Hudson Rd.) in 1826. It was a slab school house and eight students attended the school. At age 18, Clarinda Case became the first school teacher. It was located in northwest corner of township.
1827 The township of Streetsboro is officially organized. Last township in county to do so.
1851 The famous Old Methodist Church was designed and constructed. Many years later, the steeple is destroyed by a tornado in 1956. The church was moved to Hale Farm and Village (Bath, OH) in 1973 and has been restored.
1890 The primary industry in Streetsboro during the 1800's wasDairying. This was done on local farms and by the mid-1890's the Streetsboro Creamery Co. was established - and built it's factory, shipping a large portion of its milk to Cleveland, Ohio. Along with Streetsboro's dairy industry, cheese factories were established throughout Streetsboro township and by 1885 the township had five factories up and running. A main purchaser of Streetsboro's dairy was The Feeder Dam Factory, owned by C.R. Doolittle which was located just over the Shalersville border and much of the cheeses produced by them would be shipped to New York.
1922 Streetsboro celebrates its 100 year Centennial.