Welcome to the Streetsboro Fire Department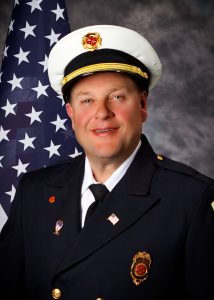 The Streetsboro Fire Department was organized in 1949. We proudly serve the residents, businesses and visitors of Streetsboro with 24 hour a day fire and emergency medical Paramedic services across our 25 square mile area. We are a combination fire department which consists of full time and part-time Firefighter / Medics.
Streetsboro Fire Officers and Fire Fighters are professionals who take pride in their community, the service that they provide, and the profession that they have chosen to embrace. We believe in providing prompt, courteous and professional emergency services. We strive to stay connected to the community during time of emergency and non-emergency through this web site as well as other venues, such as our department's active social media presence where we share news and information concerning your fire department. We welcome and encourage your feedback.
Our members continue to train in areas of expertise such as Dive Rescue, Fire Investigations, Hazardous Materials Incident Response and Technical Rescue. This provides our residents with complete and total emergency assistance. Our training, work and continued collaboration with other city departments and external partners have allowed us to achieve an Insurance Service Office (ISO) rating of 2. This rating helps keep insurance rates low for everyone in our community.
Fire personnel are dedicated to providing the citizens of our coverage area the highest quality service possible. We are an all risk fire department that provides services in fire suppression, rescue, fire prevention, fire inspection, emergency medical services and disaster mitigation to list a few.
We are proud to serve you and realize that you have entrusted us with the safety and protection of our community. We want a positive interaction with our citizens and visitors to our city, which will benefit all of us.
Sincerely,
Fire Chief Robert A. Reinholz
Values of the Streetsboro Fire Department
As first responders to fires, public safety and medical emergencies, disasters and terrorist acts, the Streetsboro Fire Department protects the lives and property of Streetsboro residents and visitors. The department advances public safety through its fire prevention, investigation and education programs. The timely delivery of these services enables the Streetsboro Fire Department to make significant contributions to the safety of Streetsboro and homeland security efforts across the region.
Service
The Department continues its unwavering call to protect and serve.
Bravery
Bravery is the ability to overcome fear through fortitude, instinct, compassion for others and training.
Safety
We strive to keep our citizens free from danger, especially deliberate, harmful acts. With the best equipment and training, the Streetsboro Fire Department can reduce the risk to the public and its members at fires, emergencies and medical incidents.
Honor
An enormous commitment necessary to perform the department's tasks requires excellence of character. We inspire each other through pride in our unit, which is a belief that every action reflects on all the members of the unit, both past and present.
Dedication
A commitment to the objectives of our mission is an essential part of our code of conduct. The faithful observance of duty calls for us to fulfill our obligations professionally and honestly.
Preparedness
By combining all of the components of our core values, the Streetsboro Fire Department will maintain its constant state of readiness to meet all threats and challenges, traditional and new.