Hydrant Flushing is a citywide activity conducted by the Streetsboro Water Department.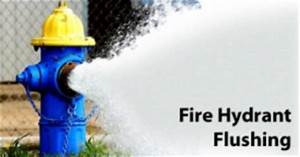 Hydrant flushing is generally scheduled for the last week in March and lasts almost 2 weeks. Water customers are advised during this time that they may see a slight discoloration of their water, but it is safe for drinking. Users should check the cold water for clarity and run clear before using it for laundry.
The City water is monitored daily for chlorine, monthly for bacteria and quarterly for disinfection by products.
Use of a fire hydrant is permitted by city employees only. Anyone seeing someone other than a city employee using a hydrant should contact the Water Department at 330-626-2856 or the Police Department at 330-626-4976. No outside contractors or landscapers are to be on any hydrant for any reason.
Why Flush Fire Hydrants?
The city flushes fire hydrants to clean out iron deposits in the water lines; to verify the hydrants are working properly; and to assure continued high quality drinking water. Fire hydrant flushing also provides the Fire and Water Departments with valuable information about water volume and fire flow.
What Happens During Fire Hydrant Flushing?
During the testing process, an associate of the Streetsboro Water Department opens a series of fire hydrants to its maximum flow. The flow stirs up iron deposits and sediment and removes them from the system. The associate cleans and lubricates accessible operating parts of each hydrant, checks the operations of the hydrant and valve, and records any deficiencies for repair.
Will Hydrant Flushing Affect Your Water?
During the hydrant flushing process, city water customers may experience some water discoloration, especially when hydrants are being flushed in your immediate area. Once the hydrant flushing is complete, water quality will return to normal.
What Precautions Should You Take?
Before doing laundry or other projects that may suffer from discolored water, make sure the water is running clear. It's also a good idea to keep a pitcher of clean water in the refrigerator.
What If I Still Get Rust Stains Or The Water Remains Discolored?
If problems persist well after hydrant flushing has taken place, call the Streetsboro Water Department at 330-626-2856 to report the problem.