The Streetsboro Police Department dates back to the 1880's when the township police constable was used for carrying out tasks like running the poor out of town. There was no real semblance of a police department until the 1950's. Glenn Marsh was named by the township trustees in about 1952 to serve as chief constable. During his 14-years, the township acquired the first police cruiser and began operating as a department. Marsh resigned in 1966 when he moved from the community.
At the time there were three part-time members; Roger Parent, Roger Mazon and George Tarby. Parent was elevated to the chief's post after serving as a sergeant. Mazon was promoted to sergeant.
Parent, along with his wife, Joan, set up police headquarters in their home on Page Rd. For several years all the department's radio equipment, files, records and equipment were housed in the Parent home. Joan began serving as police dispatcher and established her own enviable record as a top-notch dispatcher and policewoman.
When Streetsboro became a village, Parent transitioned police headquarters from his home to rooms above the fire station.
After eight years on the department, Chief Parent resigned in 1970. At that time the remaining men on the department were Sgt. James Brown, Sgt. Fred Meyer, Ptl. Jeffrey MacAdam and Ptl. Bruce Krepp.
In 1971, city council approved the hiring of Lowell F. Justice as the new chief of police.
Sgt. Brown remained on the department, as did Ptl. MacAdam and Krepp. Newcomers were Ptl. Del Stewart and Archie Jones. Dispatchers were Dale Kelly, Debbie Norman, and Pat Gray. *
Sgt. James Brown was named Chief of Police in 1977 and served in that role until 1996.  He changed the department from being a small rural department into a modern police agency, partly through accreditation through CALEA (The Commission on Accreditation for Law Enforcement).  It was also during this time that the department had its first K9, Axel.  After Chief Brown retired, Sgt. John Janoch was the interim police chief from 1997 until his retirement in 1998.  
For many years until this point, the police department had been located in a small 100 year old farmhouse on State Route 303.  With the help of Interim Chief Janoch and administrative assistant Darla Beck, the city designed and built a new police department and dedicated it in November of 1998.  The new police department stood to the west of the old farmhouse until it was torn down about a year later.
Chief Ronald Schmid took leadership of the department in 1999 after having retired from the Maple Heights Police Department.  He remained Chief of Police until 2003.  Longtime employee Richard Taiclet was promoted to chief of police in 2004.  He had started with the police department in 1974, was promoted to sergeant in 1981, and then as the department's first lieutenant in 2000.  He retired in 2011 and sadly passed away in 2017.  The police station was later named in his honor.  Chief Taiclet was well known in the community, and served on the board of the Chamber of Commerce, and was a charter member of the Streetsboro Family Days organization.
Lt. Roy Mosley was then promoted to police chief in 2011.  Under his leadership, the department became one of the most technologically advanced police departments in the area.  A department website was developed, and department accounts were created on major social media sites.  Equipment in patrol cruisers was also updated to include mobile data terminals (MDTs) and dashcams.
Chief Mosley retired in 2014 and after acting as interim chief, Lt. Darin Powers was promoted to police chief in 2015.  The technological advancement of the department continued under him, as in-car printers were installed on MDTs to allow for the printing of citations, dashcam systems were updated from VHS recording to hard drive storage with WIFI upload, and officers began wearing body cams.  An Unmanned Aerial Vehicle (drone) program was introduced, and a bicycle patrol was added.
In an acknowledgment to the need for transparency in law enforcement, the Streetsboro Police Department took part in the A&E television show LivePD in 2017.  Two camera crews rode with Streetsboro officers on Friday and Saturday nights sometimes going live during traffic stops and arrests.  Crews rode with officers on three more nights during the week recording material to be used during the show.
Chief Powers retired in 2020, and Lt. Troy Beaver was named interim chief.  Later that year, Lt. Tricia Wain was sworn in as the first female police chief of the department.  Under her leadership, the department continues to work with the community through a variety of programs including DARE, Crisis Intervention Training (CIT), and Shop With a Cop.  The department currently employs 29 officers and 7 dispatchers.
| | | |
| --- | --- | --- |
| Chief Parent | Chief Justice | Chief James Brown |
| Chief Ronald Schmid | Chief Richard Taiclet | Chief Roy Mosley |
| Chief Darin Powers | Chief Tricia Wain | |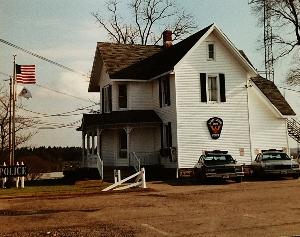 *Credit:  Streetsboro History "The Yesteryears Of Our Town" Facebook Group