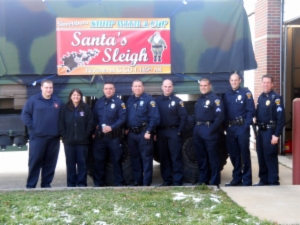 Each December, Streetsboro Police Officers and Dispatchers, along with other representatives from our community, go shopping with several children from our area.  This consists of a shopping spree at our local Target here in Streetsboro, where kids are matched up with an officer or a dispatcher to go shopping.  Members of the police department sell Shop With A Cop raffle tickets in order to raise funds to take our kids shopping each year.
Thank you to all of the organizations, companies and individuals within the Streetsboro community for their generous assistance to the Shop With A Cop Program.   Thank you also to Streetsboro Dunkin Donuts for their food contributions to help us host our kids and keep them full!
Each of the children are given a police escort consisting of several emergency vehicles with lights and sirens in a caravan to our Target store to begin the day.
2019 was the 16th consecutive year the Streetsboro Police Department has participated in Shop With A Cop.  Thank you to everyone who contributes to making the program so successful and helping kids and families who truly deserve it.