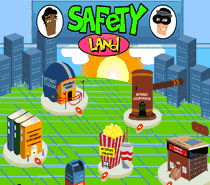 Safety Land is for children entering kindergarten in the Fall.  Safety Land is a program that may teach a wide spectrum of safety information about the following: (nutrition, sports safety, water safety, bus safety, fire safety, self esteem, animal safety, railroad safety, recycling, poison, and a visit from the police department).  The students will also take part in a practice course where they will learn hand signals for the road.
On Friday, students will participate in a graduation ceremony that will be 12:00–12:30 pm with lunch being served to all those who attend after the ceremony.  Every child will be assigned to bring a snack during the week or to the graduation ceremony.
You will receive a packet in the mail with program details. The program is held the first week of June at City Hall, 9184 SR 43 from 9:00am,-12:00pm.  Both registration and transportation information forms must be completed and returned to the Parks and Recreation Office with payment by the deadline.  Volunteer adults and teens (6th-12th grade) are needed and forms are available at the Parks and Recreation Office to sign-up. For further information you can reach the Parks and Recreation Department at (330) 626-3802.
COST: $35.00   NCTP: $40.00
Ptl. Jason Fogleman is our police department representative for the Safety Land Program.  He may be reached by email at jfogleman@streetsboropolice.com, or by phone at (330) 626-4976.