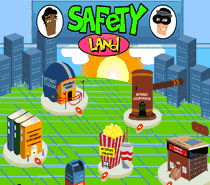 Safety Land is for children entering kindergarten in the Fall.  Safety Land is a program that may teach a wide spectrum of safety information about the following: (nutrition, sports safety, water safety, bus safety, fire safety, self esteem, animal safety, railroad safety, recycling, poison, and a visit from the police department).  The students will also take part in a practice course where they will learn hand signals for the road. On Friday, students will participate in a graduation ceremony.
Adult and teen (7th-12th grade) are needed and forms are available at the Parks and Recreation Office to sign-up. For further information you can reach the Parks and Recreation Department at (330) 626-3802.
Please contact the Streetsboro Parks & Recreation Department for registration details.
Ptl. Jason Fogleman is our police department representative for the Safety Land Program.  He may be reached by email at jfogleman@streetsboropolice.com, or by phone at (330) 626-4976.